Cherry Blossom Bouquets
(the floral company of Cherry Blossom Floral) was lucky enough to be a part of a fun packed event full of inspiration at
The Wedding Fair at London Excel on 20th

and 21st

September
.
All aspects of the wedding industry were covered at the show-
~ Wedding Cake Suppliers
~ Honeymoon Companies
~ Venues
~ Wedding Dresses
~ Favours
~ And not forgetting of course – Bridal Bouquets and Floral Décor
Bouquet By Cherry Blossom Bouquets
Photography: Tom Halliday Photography
First let's focus on the flowers (of course!)
The collection showcased by
Cherry Blossom Bouquets
at this event
included a mix palette of colours with a few Autumnal colours perfect inspiration for an Autumn or even Winter wedding.
Colours of russet, maroon and gold, dusky pinks and mocha coloured pearls were features of the collection.
Bouquets by Cherry Blossom Bouquets
Fitting with the current trend for all things vintage looking, birdcages were very popular and floral birdcage arrangements in shades of peach and shades of pink were showcased and well
loved by many visitors
.
Floral Birdcage by Cherry Blossom Bouquets
Cherry Blossom Bouquets was asked to participate in 2 of the big
'feature'
catwalk shows.
The overall theme of the show was nature – lots of muted colours, soft relaxed hair and romantic looking bridal dresses.
Look 1
The Floral Lanterns
Floral Lanterns by Cherry Blossom Bouquets
Photography by Tom Halliday
Dress Designer: The Bespoke Wardrobe
Beautifully showcased by the models and fitting in perfectly with the natural
romantic
theme
Look 2
Autumnal Great Gatsby
Bouquets by Cherry Blossom Bouquets
Photography by Tom Halliday Photographer
Dress Designer: Naomi Neoh
Glamour with muted colours – pearls, feathers and rich soft autumnal colours of dusky pink, dusky peach, deep red and deep purple all set off with feathers and pearls for the glamorous Gatsby touch
There was some great on the day feedback from the show and key points that came up about the collection showcased were:
~ 'The flowers are so realistic' – many visitors had to get up close and feel the flowers to believe they were not real
~ There were a number of visitors considering fresh flower bouquets until they saw the collection on offer and realised they could get a cost effective bouquet which can be kept long after the wedding day and displayed in their home
~ I met a few 'travelling brides' getting married abroad and a keepsake bouquet was the perfect thing for these brides to be as it meant getting the flowers and look they wanted organised and completed before jetting off to foreign climes
~ A great way to get out of season flowers or unusual colour schemes incorporated into your Bridal Bouquet
I met a number of 2015 and even 2016 brides planning ahead and trying to get a head start in planning their weddings.
Cherry Blossom Floral Bridal Advice:
If flowers are important – please do not leave this till the very last minute –
A bridal bouquet takes many hours of intensive and intricate work to put together and in order to source the best quality and colour of flowers a good amount of time is required.
For a Bridal Bouquet – you should always aim to allow a minimum of 4-6 weeks before the wedding day – but in peak wedding seasons 2-3 months is not unheard of
For Flower Arrangements – more time is required a minimum of 6-8 weeks is ideal and again 3-6 months for the peak wedding seasons especially if a lot of arrangements are required.
Bouquet by Cherry Blossom Bouquets
Orders can be turned around in quicker periods of time but to allow sufficient time for consultation, sourcing flowers and making the bouquet/arrangement – the more time you have the better and less stressful it is for the bride to be!
Back to the rest of the show –
Wedding Dress Galore!
Lace was yet again a big hit and a reoccurring theme. There were dresses completely made of lace and others with just a hint. Lace always looks feminine and elegant – if that's a look you're trying to achieve then consider incorporating some it into your wedding dress for a timeless look.
There were some fantastic designs showcased by 'Confetti and Lace', 'The Bespoke Wardrobe' and also 'Naomi Neoh' – Whose beautiful dresses were showcased on the catwalk and beautifully complemented by Bridal Bouquets and hair accessories by Cherry Blossom Bouquets.
Photography by Tom Halliday
Dresses by the Bespoke Wardrobe & Naomi Neoh
There was definitely a feel of the unique and personal style wedding as showcased by some lovely exhibitors on the day.
Picture - Boris and Betty at London Excel
Boris and Betty showed some of the most beautiful looking vintage china and decor for weddings and parties and in my opinion they had one of the most eye catching stand displays at the event.
Photography by Tom Halliday Photography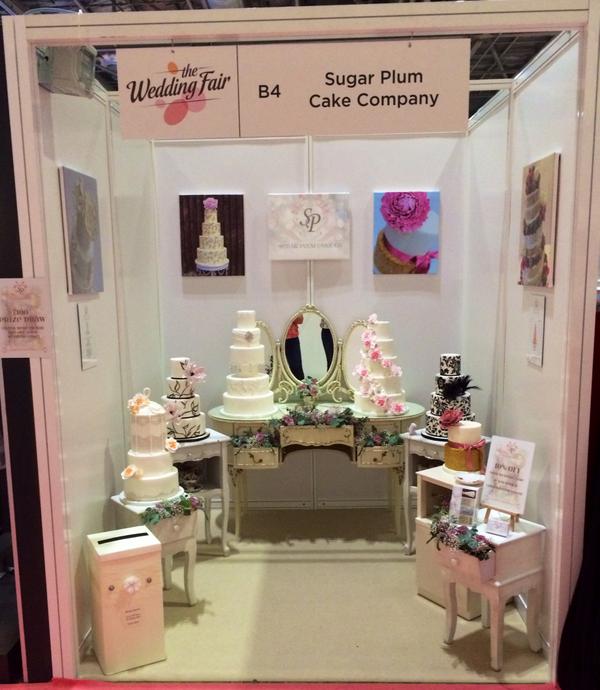 PoshPuds and Sugarplum Cake Co showcased a beautiful range of wedding cakes in every style from simple and classic to the more detailed and elaborate designs – there were also plenty of cake tastings available at the fair as well which I must say is probably the highlight of the wedding planning experience for most!
There were some fab wedding invitations showcased at the event.
What better way to set the tone for the wedding ahead than to incorporate your theme into your invitation design- perhaps this is a colour such as pink or blue or maybe you have a them – oriental- with some oriental inspired designs or roaring 20's with some art deco inspired designs
The right invitation is a great way to get your guests into the look, feel and style of your wedding.
Well, that's it for my coverage on the Wedding Fair at London Excel, If this has wetted your appetite then take a look at the dedicated website
www.theweddingfairs.com
for more images and coverage of the weddings fairs at London Excel as well as the fairs in Manchester and Bluewater.
Cherry Blossom Floral will return with more advice and inspiration for brides to be
Remember - to stay up-to date – sign up to the blog
To view more work from Cherry Blossom Bouquets checkout Facebook or take a look on instagram: @cherryblossombouquets
Signing off
Cherry Blossom Floral X